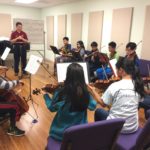 Music teachers have a lot to teach their students in just a short time, once a week. A lesson is really best spent working on technique, musicality, and performance, but particularly with young students, teachers often find themselves spending a large portion of their lessons teaching basic musicianship, such as note-reading and rhythms.
Theory Class gives the young students the chance to learn all the musicianship skills they need in an efficient way, so that they can make the most of their time with their individual instructors, as well as dramatically increase the rate at which they sight-read, and therefore learn new music.
For students who are preparing for All-State or other youth orchestra auditions, sight-reading has been the most challenging part to achieve their goal. A lack of comprehensive training in music theory (i.e. counting and reading) is the reason that students struggle in this field. The Sight-Reading Class teaches these students not only the music theory knowledge but also the skills on improving their sight-reading. Mr. Young Kim who is the instructor for the Sight-Reading Class has more than 20 years of experiences with All-State orchestra audition events, his unique approaches toward the subject have helped many students overcome their fear of sight-reading. With All-State and other youth orchestra auditions, the faculty of the William Pu Music Academy strongly recommends students to use the Sight-Reading Class for improving their performance in any future auditions.
Sight-Reading Class:
Sight-Reading is a bi-weekly class. For Spring 2018, the classes will begin on January 20th through May 12th from 9-9:50 a.m. on Saturdays. Class fee is $175 for 8 sessions, full payment is due before or on January 20th. The class dates are: 1/20, 2/10, 2/24, 3/17, 3/31, 4/14, 4/28, 5/12.
Mr. Young Kim, a distinguished member of Georgia Music Educator Association (GMEA) has many years of teaching experience for Governor Honors Program (GHP). He has served as judge as well as conductor of All-State orchestra.
Mr. Kim will focus on helping WPMA students improve their sight reading skills for auditions like All-State and other youth orchestras, through innovative ideas and hands-on teaching methods. It is through this preparation process for those enrolled in the Sight Reading Class that these students will gain confidence and improve their scores. WPMA is fortunate to have such a distinguished musician such as Mr. Kim on our staff.
For more about Mr. Kim and other faculty members, click here