William Pu ~ Founder / Executive Director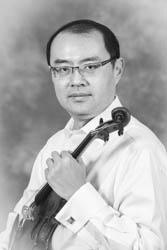 The distinguished Chinese-American violinist William Pu has served in two of the best orchestras in the United States, the Houston Symphony as Assistant Concertmaster and the Atlanta Symphony as Associate Concertmaster for the past 25 years. Born in Shanghai, Mr. Pu graduated from the Shanghai Conservatory of Music before came to the United States. Having studied with renowned teachers like Fredell Lack, Camilla Wicks, David Cerone and Emmanul Borok. Mr. Pu has received many awards in national and international competitions.
At age of 23, Mr. Pu won the national audition and was appointed by Christoph Eschenbach to become the youngest ever to serve as the Assistant Concertmaster of the Houston Symphony Orchestra. In 2002, Mr. Pu again won the national audition to become the Associate Concertmaster of the Atlanta Symphony Orchestra. During his tenure years with at the Houston Symphony Orchestra and the Atlanta Symphony Orchestra, Mr. Pu has lead both orchestras on numerous concerts, tours and recordings, featured as a soloist in many occasions and collaborated with distinguished artists such as Robert Spano, Christoph Eschenbach, Yo-Yo Ma, Lang Lang, and Itzhak Perlman, just to name a few.
Mr. Pu was invited as a guest concertmaster with the Dallas Symphony Orchestra, the Columbus Symphony Orchestra and the Hong Kong Sinfonietta. In addition to his busy performing schedule, Mr. Pu actively performed chamber music with his colleagues and friends in Houston, Atlanta, Hong Kong and China. Mr. Pu was invited to be the featured soloist with the Wroclaw Philharmonic in Poland, Ohio Chamber Orchestra, Texas Music Festival Orchestra, Moore School of Music Orchestra at University of Houston, Grand Folks Symphony Orchestra, Georgia State University School of Music Orchestra, DeKalb Symphony Orchestra, Woodland Symphony Orchestra and Galveston Symphony Orchestra.
In 2005 and 2010, Mr. Pu was invited to perform in the orchestra made from the top one hundred Chinese musicians around the world in Beijing and Shanghai. Teaching has long been Mr. Pu's passion. In 1989, Mr. Pu received Dorothy Starling Foundation scholarship to become teaching assistant to Fredell Lack at University of Houston. For many years in the summer, Mr. Pu was invited to teach at the Texas Music Festival, the Asian Youth Orchestra in Hong Kong, the Harpa International Music Academy in Reykjavik, Iceland and the National Taiwan Symphony Orchestra (NTSO) International Youth Orchestra Camp. His students are now in many professional orchestras and top music schools in U.S. and abroad.
Michael Palmer ~ Artist Director / Conductor
Michael Palmer has long been considered one of this country's finest conductors. In addition to appearances in the United States, he has also appeared in Europe as a guest conductor in Austria and Poland, where his performances have brought him critical acclaim. Mr. Palmer began his career at age 21, when he came to the Atlanta Symphony Orchestra as assistant conductor at the invitation of Robert Shaw. He was soon made associate conductor, and also founded and was music director of the Atlanta Symphony Youth Orchestra. While in Atlanta, Michael Palmer was honored as one of five of the first conductors in the United States chosen by the National Endowment for the Arts to be Exxon Arts Endowment Conductor, and he was soon in demand with orchestras throughout the country. While continuing in his post in Atlanta, he was appointed guest conductor of the Houston Symphony Orchestra for a three-year period. He also worked extensively with the National Symphony Orchestra during this period, and he was, subsequently, named co-principal guest conductor of the Denver Symphony Orchestra.
After 10 years in Atlanta as associate conductor, Mr. Palmer accepted the appointment as music director of the Wichita Symphony Orchestra. Throughout his 13-year tenure, he developed the Orchestra to a high artistic level. Following his tenure in Wichita, Michael Palmer became music director of the New Haven Symphony Orchestra. In New Haven, he was recognized widely for his artistic accomplishments and for building the Orchestra to one of the finest of its kind in the nation.
In 1993, Michael Palmer became artistic director of the Bellingham Festival of Music. Under his artistic leadership, the Festival has become internationally recognized for its artistry. Festival concerts are heard across the nation on NPR and feature some of the finest orchestral musicians and major guest artists from the United States and abroad. He is also the artistic director of the Quartz Mountain Music Festival's orchestral institute.
Michael Palmer has served as guest conductor for many orchestras throughout the United States, including the Rochester Philharmonic, Detroit Symphony Orchestra, Grand Rapids Symphony Orchestra, Indianapolis Symphony Orchestra, Kansas City Philharmonic, San Diego Symphony and many others. In 1991, Mr. Palmer founded the American Sinfonietta, which toured Europe for 10 seasons under his leadership, playing to critical acclaim in the major concert halls of Germany, Austria and Switzerland.
His recordings include an all-Mendelssohn disc for Summit Records and the Five Beethoven Piano Concerti with pianist Garrick Ohlsson on the Natural Soundfields label. Mr. Palmer may also be heard with the Rochester Philharmonic on the New World label.
Mr. Palmer joined the Georgia State University School of Music faculty as director of orchestras in August 2004, after serving in the same capacity at Wichita State University. In 2006, he was appointed as the Charles Thomas Wurm Distinguished Professor of Orchestral Studies.
Click, here for other AYO artists.