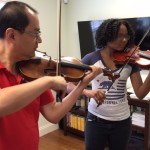 The William Pu Music Academy accepts registrations for private lessons, Suzuki group lessons, theory classes and sight-reading classes throughout the year!
WPMA offers high standard of private lessons on violin, viola, cello, piano, voice, guitar, clarinet, flute, mandolin, saxophone, trumpet, ukulele, euphonium, trombone, tuba, and renowned Suzuki group lessons for youngsters and beginners.
We teach all levels of students from K-12 and adults in the Johns Creek, Alpharetta, Duluth, Milton, Forsyth, Cumming, Suwanee and other Georgia areas.
WPMA raises the bar of music education, with excellent commitment and mission to help students to achieve their higher creative potential.
Private Music Lessons
William Pu Music Academy provides 30-minute, 45-minute and 60 minutes music lesson. 30-minute lessons are great for young children and people who is brand new to the instrument. 45-minutes lessons are great for adult beginners and children with a keen interest in music and longer-than-average attention span. For serious music students, or students preparing for auditions or competitions, 60-minute lessons are ideal. WPMA runs 18 weeks on each semester, excluding the Spring Break in the Spring semester and the Thanksgiving Holiday in the Fall semester. Students who register from the beginning of the semester and have all 18 weekly lessons through out the entire semester, their monthly tuition rate will based on the 18-week lessons per semester system. Students who don't not register in the beginning of the semester will have different kind of the payment system.
WPMA welcomes tryout lessons on all instruments. During the tryout lesson, the teacher will show the student what having a lesson is like and answer any other questions or concerns that he or she might have. The tryout lesson is by appointment only and a fee will be charged. If you are interested, please contact us by phone or email.
Suzuki Group Lessons
Suzuki Group Lessons are mandatory for students who enroll in Suzuki private lessons. Students receive both an individual lesson and a 30-minute group class each week. This combination of private lessons and group classes lies at the heart of Dr. Suzuki's philosophy. Private lessons develop a student's personal understanding. Group classes help students share their experiences with others in a fun and non-competitive environment. For more about Suzuki lessons, please contact Mr. Pu.
Rhythm and Sight-Reading Class:
Rhythm and Sight Reading is a bi-weekly class. For Spring 2018, the classes will begin on January 20 through May 12 from 9-9:50 a.m. on Saturdays. Class fee is $175 for 8 sessions, full payment is due before or on January 20th. The class dates are: 1/20, 2/10, 2/24, 3/17, 3/31, 4/14, 4/28, 5/12.
Mr. Young Kim, a distinguished member of Georgia Music Educator Association (GMEA) has many years of teaching experience for Governor Honors Program (GHP). He has served as judge as well as conductor of All-State orchestra.
Mr. Kim will focus on helping WPMA students improve their sight reading skills for auditions like All-State and other youth orchestras, through innovative ideas and hands-on teaching methods. It is through this preparation process for those enrolled in the Rhythm and Sight Reading Class that these students will gain confidence and improve their scores. WPMA is fortunate to have such a distinguished musician such as Mr. Kim on our staff.
For more about Mr. Kim and other faculty members, click here
Chamber Music Program
Chamber Music Program tuition — $250 per semester for five 90 min. lesson. Chamber Music registration form, click here.
Student Recital
The free monthly student recital is offered to WPMA students during the school year. WPMA encourages each student to sign up for the student recital at lease once a semester. These opportunities will enhance stage performance of WPMA students. Student recital is open to the public.
MasterClass
A MasterClass is a public lesson where someone who is an expert at music gives advice to a group of good students. In the effort of further providing our academy students the best music education, William Pu Music Academy invites teachers who have great reputations in the classical music field to our academy. The student usually performs a single piece which they have prepared, and the invited teacher will give them advice on how to play it and demonstrations of how to play certain passages, and admonitions of common technical errors. The value of the MasterClass setup is that all students can benefit from the invited teachers.
Registration, Liability Release, Policies and Procedure
There is a yearly non-refundable registration fee of $65 per student. For families with more than one student, the yearly non-refundable registration fee is $80 per family. The yearly registration fee is mandatory for both new and returning students. All registered students are agree to sign the liability release form and to abide the policies and procedure.
To fill out WPMA private or group class registration form, click here
To download William Pu Music Academy liability release form, click here
For more about registration, policies and procedure, click here
Spring 2018 Semester
The William Pu Music Academy Fall 2017 semester begins on January 8 and ends on May 20, 2018 with a total of 18 weeks excluding the Spring Break, April 2-8.
Music Lessons during Summer and Winter Break
We understand that most family have summer or winter break travel plane, however William Pu Music Academy strongly encourages our students to keep their regular weekly lesson schedule while they are not traveling in order to preserve or extend the progress that they made during the year. The group lesson, theory and sight-reading classes are offered during the school year not summer or winter break.
Home School Program
William Pu Music Academy welcomes home school students! We offers different kinds of daytime music lessons especially for the home school family! Please contact Mr. Pu at 404.518.8891 or info@wpmusicacademy.com for more detailed information.